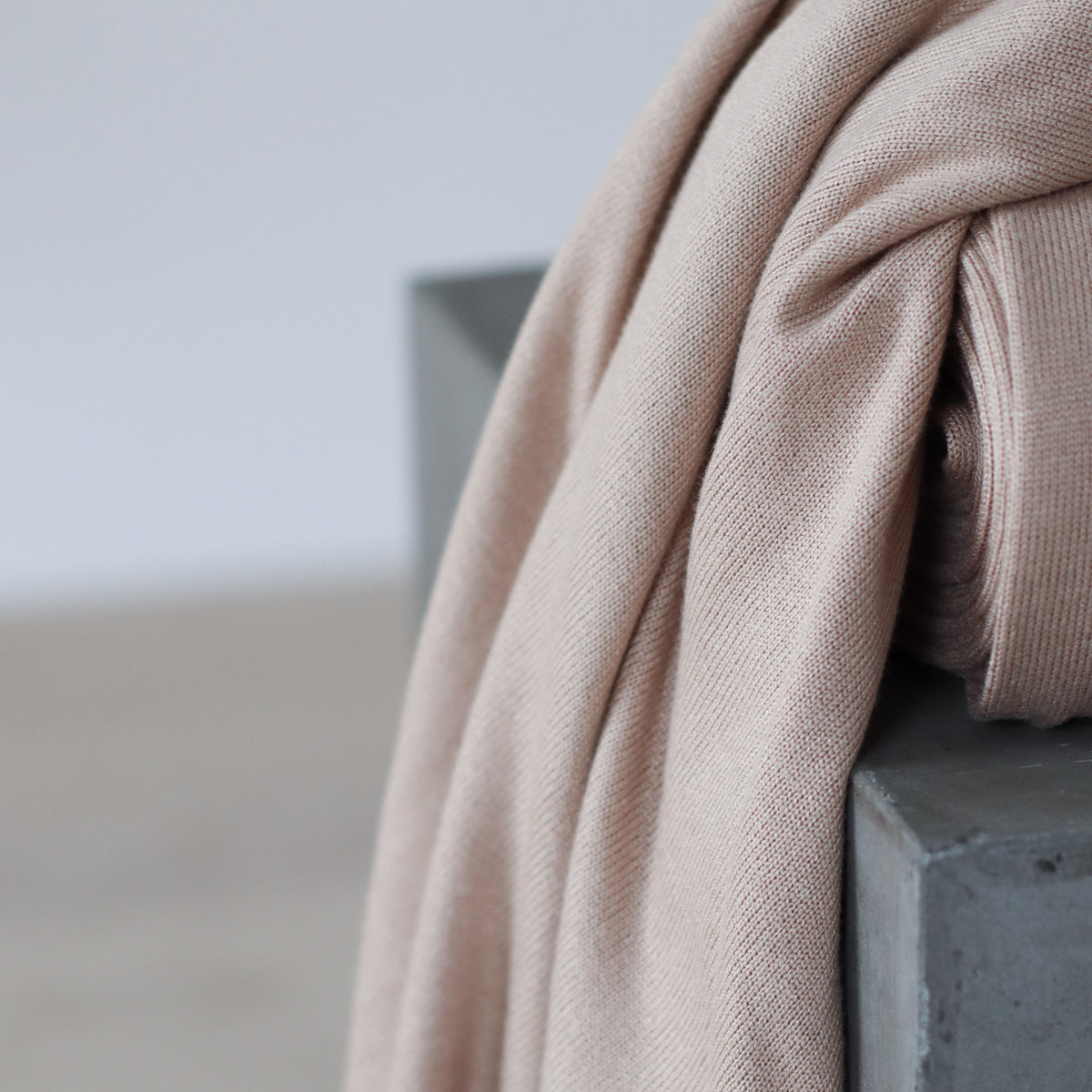 OUR MATERIALS
At Viktoria&Viktor, we not only pay attention to the nature and production of our raw materials, we also attach great importance to transparency. Which is why we would like to give you an overview of our materials here.
GOTS-certified cotton is organic.
This protects the soil, nature and human health, as only natural products and sustainable methods are used to grow the cotton instead of chemical control agents such as pesticides.

Behind the name "Global Organic Textile Standard" (GOTS) is a textile seal that not only guarantees the use of organically grown cotton, but also that production along the entire textile value chain is environmentally friendly and socially responsible. The entire textile supply chain is subjected to an independent and transparent certification process.

Organic cotton not only feels incredibly soft, but is also the better and more sustainable choice for our planet and for employees!

TENCEL™ is a trademark of LENZING™, an Austrian company known for its circular economy model.
TENCEL™ LYOCELL fibers are so-called regenerative cellulose fibers, which are made from FSC®- or PEFC™-certified wood.
LENZING™ pays attention to environmentally friendly manufacturing processes along the textile fiber value chain. The wood is produced from sustainably and legally managed forests in a closed cycle process.
This means that 99% of the resulting waste and water is reused/recycled. The TENCEL™ LYOCELL fibers are biodegradable and compostable, so they can be completely returned to nature.
For example, you could easily toss a 100% Lyocell garment on the compost. According to the company's website, more than half of the pulp used to manufacture the fibers comes from its own plants in Lenzing (AUT) and Paskov (CZ). The rest is sourced from international partners.
As the name LENZING™ ECOVERO™ already suggests, this trademark also belongs to the LENZING™ company.
The wood is processed in an environmentally friendly manner along the value chain and comes exclusively from responsible, certified wood sources (FSC® (C041246) and PEFC™).
It is not without reason that LENZING™ ECOVERO™ was awarded the EU Ecolabel. This EU eco-label is only awarded to products and services that meet high environmental standards throughout their life cycle, from the cultivation of the raw material to production and disposal.
Compared to generic viscose, manufacturing LENZING™ECOVERO™ fibers causes 50% less emissions and water pollution.
COROZO - a natural material obtained from the nuts of the tagua tree, which grows in the equatorial rainforests of Central America. As the nuts mature on the tree, they fall naturally to the ground, so harvesting means picking them up off the ground. As a result, the trees are not damaged or cut down.
Corozo buttons are known to have excellent durability and scratch resistance due to their hardness and the compact texture of the fibre.
However, like all things, our fibers are not perfect either, there are also a few problematic points that certainly still need improvement. For example, land is required for the cultivation of the raw material wood for the LENZING™ fibers, for which, among other things, the rainforest is cleared.
Added to this is the compaction of the soil, monocultures and long transport routes that arise in the production of LENZING™ and cotton fibers and represent further environmental problems. The production of fibers also requires resources such as water and energy.
Overall, our LENZING™ and organic cotton fibers offer a good alternative to conventional fibers, which are far more harmful to the environment.
Of course, the most sustainable thing is not to buy new clothes. But if you still want to treat yourself to something new and have a clear conscience, you can find what you are looking for in our shop or in our online shop!